Yacht Charter Holiday Tours
Yacht Charter Holiday Tours
Yachthafen
D-66663 Merzig
Phone: +49 (0) 26 32 / 96 55-90

This email address is being protected from spambots. You need JavaScript enabled to view it.
www.yachtcharter-holiday-tours.de
Yacht charter on the Saar and Moselle to French Canals

In the border triangle of Germany, France and Luxembourg, fragrant forests, unspoilt nature, plenty of sunshine and culture (museums, galleries, theatres), rich leisure opportunities (wildlife parks, zoos, theme parks, etc.), epicurean culinary delights (a multitude of Michelin-star restaurants) and first-class wineries await you on board your Linssen motoryacht. - Savoir vivre!

Set off with your steel Linssen yacht from our yacht harbour in Merzig on the Saar for your eventful round trip, your week trip or even your long-term trip in the border triangle on Germany, France and Luxembourg over 2000 river kilometres. Experience and enjoy the varied area with all its wonderful and unique sights in the heart of Europe on the rivers Saar, Moselle, Lahn, Neckar, Main and Rhine, the French canals, the Saar Canal and the Rhine-Marne Canal.

Our marina in Merzig/Saar is conveniently located near the A8 motorway. Merzig railway station is 1.5 km away. Within a radius of 50 to 100 km are the airports of Luxembourg, Saarbrücken, Frankfurt-Hahn and Zweibrücken, from which we will be happy to pick you up as our guests.

Yachtcharter Holiday Tours has been a Linssen Boating Holiday Partner for 28 years and we, Lydia and Willi Ruff, your host couple, welcome you to our home in the heart of Europe.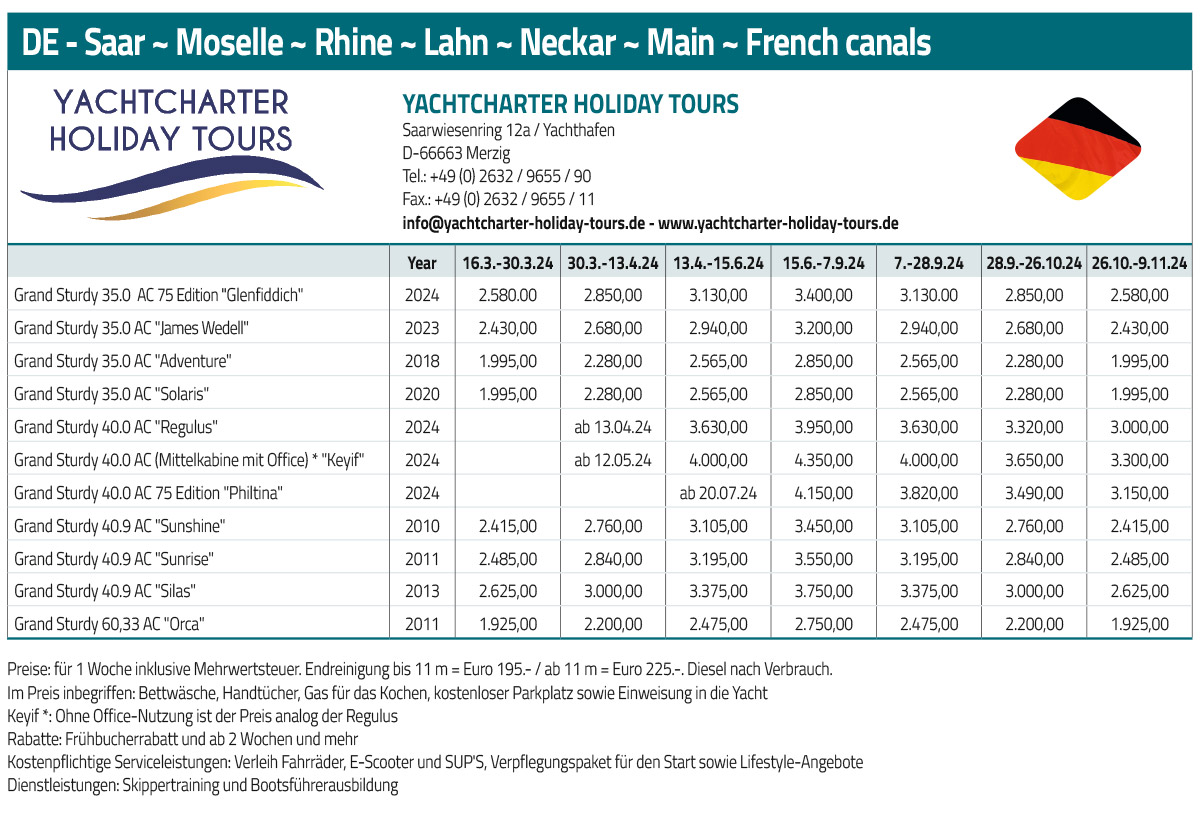 Our voyage with a motor yacht through the mirabelle region
In the summer of 2011, the 'Delfin', a Linssen Grand Sturdy 29.9 AC, was our new home for five weeks. We chartered a yacht for the tenth time from the welcoming Yachtcharter Holiday Tours in...
Read More