Experience and a boating licence are not required*! A holiday on the water with a luxury motor yacht is a holiday like you have never had before. The unique position from the water is an experience in itself. Your charter yacht glides slowly through the water and comes to places you normally cannot come to! We are happy to show you our unique cruising destinations. You will not be disappointed!
Motor boating is easy on a Linssen charter yacht
Motor boating is easy

The luxurious Linssen yachts are easy to use and are stable in the water. Experience is therefore not necessary. Your LBH charter partner will give you the necessary instructions for sailing and then you can go. Feeling unsure? Then the LBH partners can often give you a short lesson so you can start your boating holiday with confidence.

It's not the case that Linssen yachts are built especially for charter. On the contrary. All yachts are built for a private owner who will let you sail in his floating private home. You will quickly notice how easy it is to navigate the European waterways.

Also involve the children on board. They too will love it.
Boating is an active, yet relaxing holiday

Sailing with a charter boat is not a lazy holiday like a week at the beach! There is plenty to do on board besides driving the hire boat. The captain is at the helm, but the rest of his crew can help with handling the ropes, with mooring and unmooring a jetty and with locks. Teamwork for everyone on board. Be sure to involve your (smaller) children in the tasks on board. They too will love it and might spend a little less time behind their tablet. Of course, always keep an eye on the safety of everyone on board.

Although there is plenty to do on and off your charter boat, there is nothing like the calm pace of the waterways to relax. Your charter yacht sails through the water at a relaxed speed of 7-8 knots (12, 13 kilometres per hour) and everything on the water goes at a leisurely pace. The calm pace of Linssen charter boats gives you the opportunity to enjoy the landscape, appreciate nature and enjoy each other as you sail from place to place.

Eat on board or eat at a restaurant? The choice is yours.
You determine the destination on board your charter yacht

On board your motor yacht, you decide the time. Would you like to sail all day and enjoy the surroundings? Or just a few hours and then anchor at the next lake? Or read that book on the after deck, while your charter yacht is moored along the towpath. Will you be dining in a restaurant in town tonight, or will you be cooking your own meal on board and eat it on the after deck while enjoying a glass of wine or a cold beer? You decide what you do when. The only thing you have to consider is - unfortunately - that your charter boat has to be back at its base at the end of the rental period.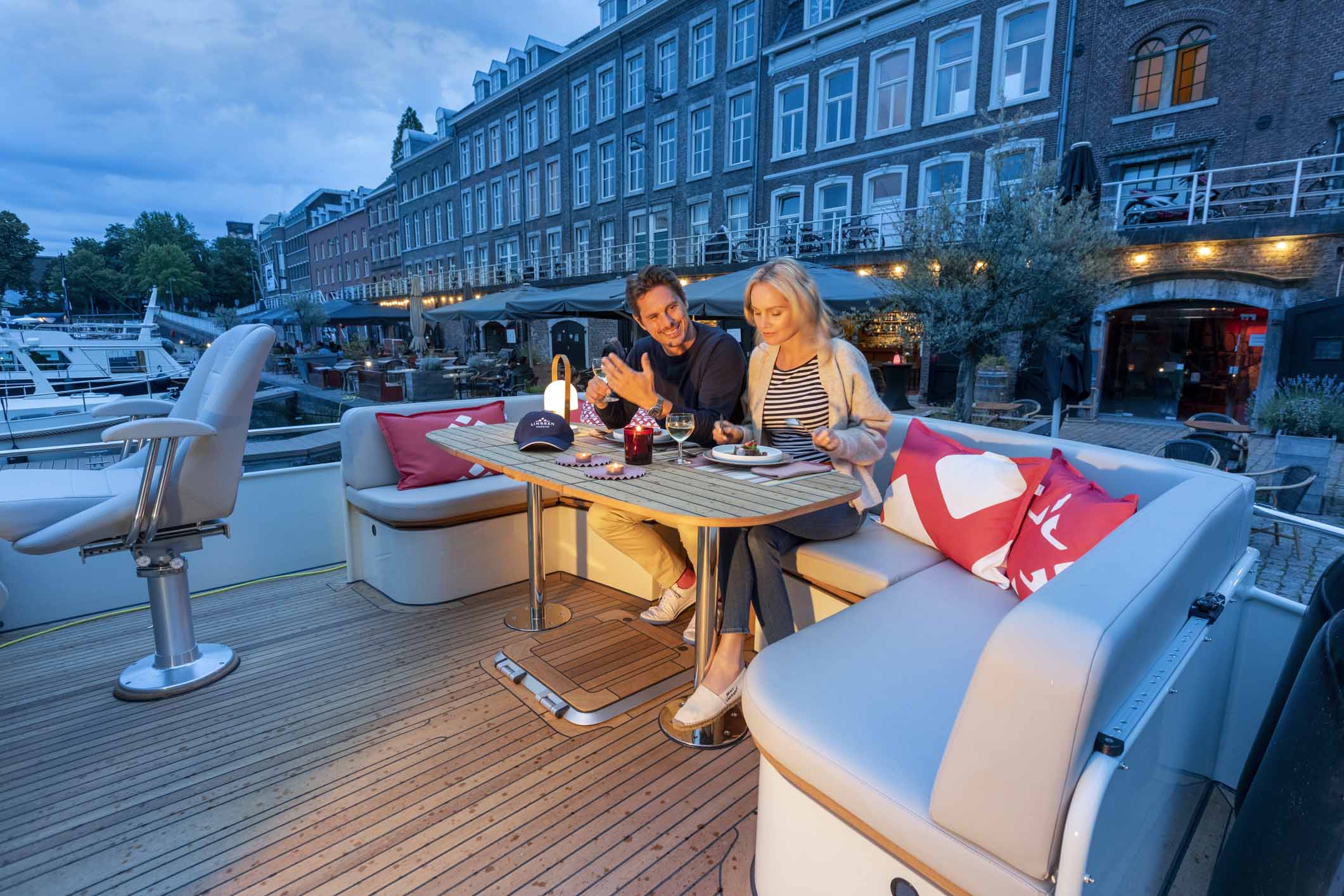 City center of Maastricht is just a walk away from Bassin Marina
A boating holiday on board a Linssen is a unique holiday

During your boating holiday aboard your charter yacht, Europe's waterways will lead you to small villages that you would never have discovered otherwise. Remember that many towns and larger cities were traditionally built on the waterways for trade. Ports are therefore often close to the city centre, so even that well-known city will suddenly look very different from the water.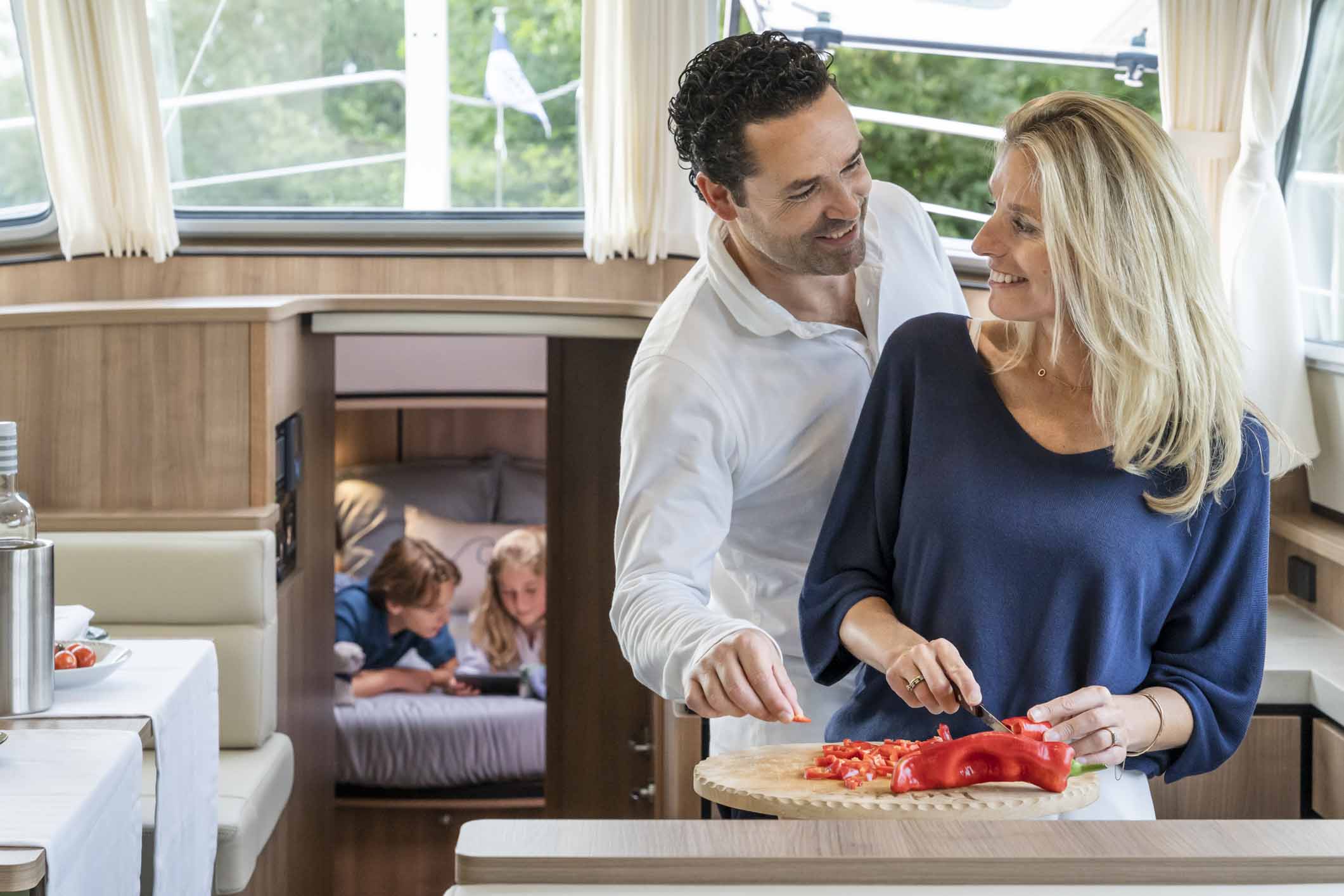 Luxury just like at home.
Your floating holiday home

Do you normally go to a holiday home in France or Spain? That luxury campsite in Burgundy or that flat in Italy? Then you know the comfort of a well-equipped home. Everything you need is there. You only need to bring your personal belongings such as clothes, etc. That's how it is on board your luxury Linssen charter yacht. Made-up beds with toilet(s) and shower(s), well-equipped kitchen with towels, etc. Everything is there. Just like at home, you can do your shopping at the local shop and then you can go.